The Arktofile his-story of the Teddy BearOn 14th November 1902 President Theodore Roosevelt was out hunting near Little Sunflower River, while attending a border dispute between North & South Mississippi. After a hard political day and no luck in shooting prey, his companions thought that it would please Theodore by capturing and stunning a recently orphaned black bear cub, which they tied to a tree to make it an easy target for the President to shoot.

" Set that bear free at once,"Shouted the President, outraged that they had offered him such an unsportsmanlike shot in killing a tethered animal. The next day's newspaper immortalised Teddy's Bear in a satirical cartoon by Clifford k. Berryman. Here he empasized the childlike helplessness of the cub and the moral rectitude of Roosevelt, which opened a can of worms on where to draw the line.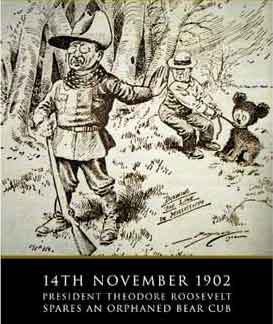 Hence the birth of TEDDY'S BEAR
From this Clifford . K. Berryman created a series of cartoon's depicting Teddy Bear's. Seymour Eaton, who also helped with the popularity in the earliest days, decided to create with the permission of the President, Teddy B and Teddy G, The Roosevelt Bear's. These two bear's were used in books as well as newspapers.
Meanwhile, Morris Michtom a storekeeper in Brooklyn and wife Rose had decided to make a pattern for a soft toy cub, after seeing the article in the newspaper. After asking permission from the President, his wife put together a toy bear cub to sell in the stationary and confectionery shop which they displayed in their window, alongside the newspaper cutting, labelling it as "Teddy's Bear". This was an instant success. They both decided not to sell candy anymore and created Teddy Bear wholesalers 'The Ideal Novelty and Toy Co,'
Meanwhile further away in late October 1902, in Germany, a toy designer Richard Steiff was working at his family firm in Giengen. They were searching for fresh new ideas in toy making. He decided to see a touring American Circus and while there observed a group of performing bears, which inspired him to create his own toy bear. The next day he put his ideas down on paper to show his Aunt Margarete Steiff, who founded the firm in 1880. It is still operating til this day.
Richard decided to make a bear toy, which was standing, upright, and jointed in a similar way to dolls. There had been bear toys before with fur but these were all duplicates of real bears. This design was that they could walk upright. Margarete Steiff was happy with the idea and Richard went to work on the idea by visiting zoos and sketching live bears.
Simultaneously in Germany unaware of the manufacturing in the USA Richard completed the designs and Margarete ran up a prototype from scraps of mohair. The bear, which was public at the 1903 spring, toy fair at Leipzig as the 'Friend Petz', to Richards disappointment no-one was interested in the product until he was packing up his stand when, an American toy buyer came across him and ordered 3,000 Teddy Bear as soon as possible.
This spawned international success. Within a few years of their invention, Teddy Bear had swept the world. Roosevelt adopted the red ribboned, bear cub image on his lapelle as his way of swaying a second successful political campaign. Steiff re-created the Teddy Bear's face to be more appealing to consumers, which influenced the drift of the Teddy Bear for the next 50yrs.
Even though Teddy's Bear was popular from it's inception, the term Teddy Bear did not enter into the mainstream vernacular until 1906. In November that year, it was coined in a trade magazine called playthings, by E.L. Horsman and Co. distributors. They had advertised bear mascots for display on their new-fangled, horseless carriages. The same company used the name Teddy Bear a month later to advertise their own toy bears and this commanded all world toy companies to adopt it. The fact is we all "own" the term Teddy Bear.
Dean's Rag Book, is a British Company, that to this day, still makes bears. Originally was Dean's publishing and in 1903, changed their name. They then produced children's books, as the Dean's Rag Book Company in England, publishing a rag book entitled "Teddy Bear" by Alice Scott. It was illustrated by Sybil Scott Paley They also had developed indestructible rag books for children with Teddy Bear themes. They had gone to making cut out and sew rag teddies in 1908, as well as the first plush jointed Teddy Bear. One of the first firms that involved themselves in manufacturing bears (The Mitchtom's and Steiff ) were J.K. Farnell, Which is the Dean Rag Book Co, and H.G. Stone & Co together. This manufacturer sold the bears under the trade name of "Chiltern's Toys" Dean's first advertised their plush bears in 1915 in the 'Kuddlemee' catalogue.
The first animated teddy-bear cartoon called Little Johnny and the Teddy Bear was made in the USA in 1907. An American composer J.K Bratton also wrote the music in 1907 'The Teddy Bear's Two Steps'. Which he was hoping it would be the campaign song for Roosevelt at election time but unfortunately the President stepped aside from leadership, in favour of William Howard Taft. British songwriter Jimmy Kennedy re-wrote the renowned lyrics in 1930, 'The Teddy's Bear Picnic'. The bruin boys were first in writing in the Aurthur Mee's Children's Encyclopaedia in 1910.
Across America firms mainly supplied Teddy Bear's to their home markets, while German companies such as Steiff and competitors, Hermann and GebrÄder Bing exported bears across Europe.
The German GebrÄder Bing company, which mainly manufactured kitchenware and mechanical tin toys, was founded in the nineteenth century. In 1908 they began producing quality, stylish teddy bears with the Steiff pattern and similar logo buttons, while continuing to manufacture conventional teddies. The company also produced mechanical bears in 1910. These included the famous footballer, skier, roller skater and the ice-skater Bear. In 1932 Bing Co went into receivership and was sold which made the mechanical teddies limited eddition's. Alongside them, many other smaller firm's in Germany had flourished and quickly disappeared.
The British had responded to the popularity of the Teddy Bear mania in the USA and Germany. This created demand in Britain and they became the 2nd major cliental (USA being first) for the Steiff orders of their bear's. Which they had designed specifically for the British market. The material for the mohair yarn, which was used in the plush early collection for Steiff in Germany, came from the British mills.
The first British made jointed plush bear was produced by J.K Farnell and Co. They were London based and established since 1840 which made small fabric articles like, pen wipers. The Children of Farnell transformed the company into soft toy company in 1897 and a few years later. A German-born distributor Joseph Eeisenmann suggested that the company made teddy bear's due to the great demand. The German imports were just unable keep up, his name was Josef Eisenmann. Due to lack of labelling, it is very hard to find the earliest of the British Teddy Bears. William J. Terry (Terryer Toys) was one of many small British soft toy companies that had become well known as well as British United Toy Manufacturing Company (Omega Toys).
American and British bears were very pleasing in the early stages of the Teddy's Bear's his-story and the German Teddy Bear's which dominated and created the design and quality. Since the birth of the Teddy Bear there has been a vast variety of companies that have manufacture these toys and some are still operating. Other's have closed down, increasing value to some bears due to the company's closure. Most Teddy Bear's were produced small scale in Britain approximately til 1910, then some other large scaled companies started around 1915.
The English Bear's that were manufactured seemed to have a softer look and feel about them than the German bear's, which created an influence in the 1920's and 1930's. Farnell bears were considered to be close to Steiff bear's in comparisons but many other companies's such as Merrythought (1930), Dean's, Chad Valley Co and Chiltern did all produce very beautiful Teddy Bear's (to be fair).
Only because the First World War started in 1912, did other countries begin to make their mark in manufacturing of Teddy Bear's. This ravaged Europes manufacturing market for years and still after the effect of war had lingered on. The Steiff and other German manufacturers handed their factories over for war efforts. During this time the Teddy Bear manufacturing was halted. From the results of German Bears being banned in Britain, they created for themselves the first Plush Bear. Other countries, which relied on the German supplies, had no choice but to manufacture their own bears. With in the restrictions of the War, people and companies had produced new Teddy Bear's and when things became "normal" again, traditional jointed bears were alongside the new "necessity" designs.
Founded in 1914 the Harwin Company made a speciality of dressed bears, even though they were not born clothed which included kitted military uniforms. Johnson Brothers made the first 'Chad Valley Bear's which were created in 1915. This Teddy was called 'Master Teddy' and was made partly out of plush fur with it's clothing made out of cotton to economise on the expensive mohair and created it in 5 different sizes.
After the WW1 in the 1920's and 1930's it was to be a Golden age for the Teddy Bear's all across the world, this refers to finacially as well as in the design structure of the bears. During this period the French manufacturing was enhancing. Emile Thiennot had created a factory in the region of Champagne in France. The Fabrication Artistique d'Animaux en Peluche produced Teddies in 1925 and Article de Luxe Fabrication Artisanale started in 1936. For this period the French bears had downturned mouths, ears with contrast colour, jointed discs which were shown on the outside and the ALFA bears had open mouths.
In the 1920's Australia started to manufacture Teddy Bear's from imports of mohair from Britain. They had created hand made bears and traditiond, Joy Toys in Melbourne were the first to start producing them. These became collectables and other firm's bears such as Emil Toys and Fideston Toy Company.
Wendy Boston was involved with the popularity of washing machines and had created an unjointed and fully washable bear which was duplicated by all the manufacturer. Through the 60's and 70's this design had great influence, onthe shape and look of jointed bears.
A lot of Adult's in the mid 70's started collecting Teddy Bear's and were happy with the new design's that were around. After realising the significance of the his-story of Teddy's Bear the older bears with traditional designs became more in demand for collectors. Therefore unfortunately the manufacturer produced for looked at the collectors rather than the children or the bears themselves. Steiff then in 1980 re-produced a limited edition Teddy Bear.(To cash in)
The legend still lives on though the people need reminding of its origins. So, maybe we should spare a thought also for Teddy's REAL bear, who probably died from starvation after it was released, because its mum was not around anymore to feed it and forest predators without guns would have consumed it before it starved. All that fuss over an act that was as irresponsible as shooting it's mum in the first place. Food for thought!
References: Collectable Teddy Bears by the Book Company 1994
The Joy Of Teddy Bears by Ted Menten 1991
The Teddy Bear Hall Of Fame Mich¸le Brown 1996
HOME