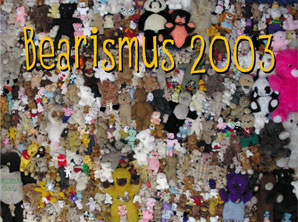 Here is your golden opportunity to purchase the first ever BEARISMUS 2003 Calendar! It's a bit late but Art is Art...
Depicting many scenarios that Martie Bear has "attended" across and on the Globe.
It is very specially designed so that 11 out of the 12 postcards can be removed and posted, without changing the integrity of the booklet. It hangs on two lateral pins or preferably nails, 105 mm apart and has the 10 "bearismus" commandments on the rear of the month pages.

We will speedily return a package to you for your very interest in this movement!


HOME