Martie Bear
Latin Name: Ursus Gigantus Urbanus
Subfamily: $illious Billious
Martie Bear1997.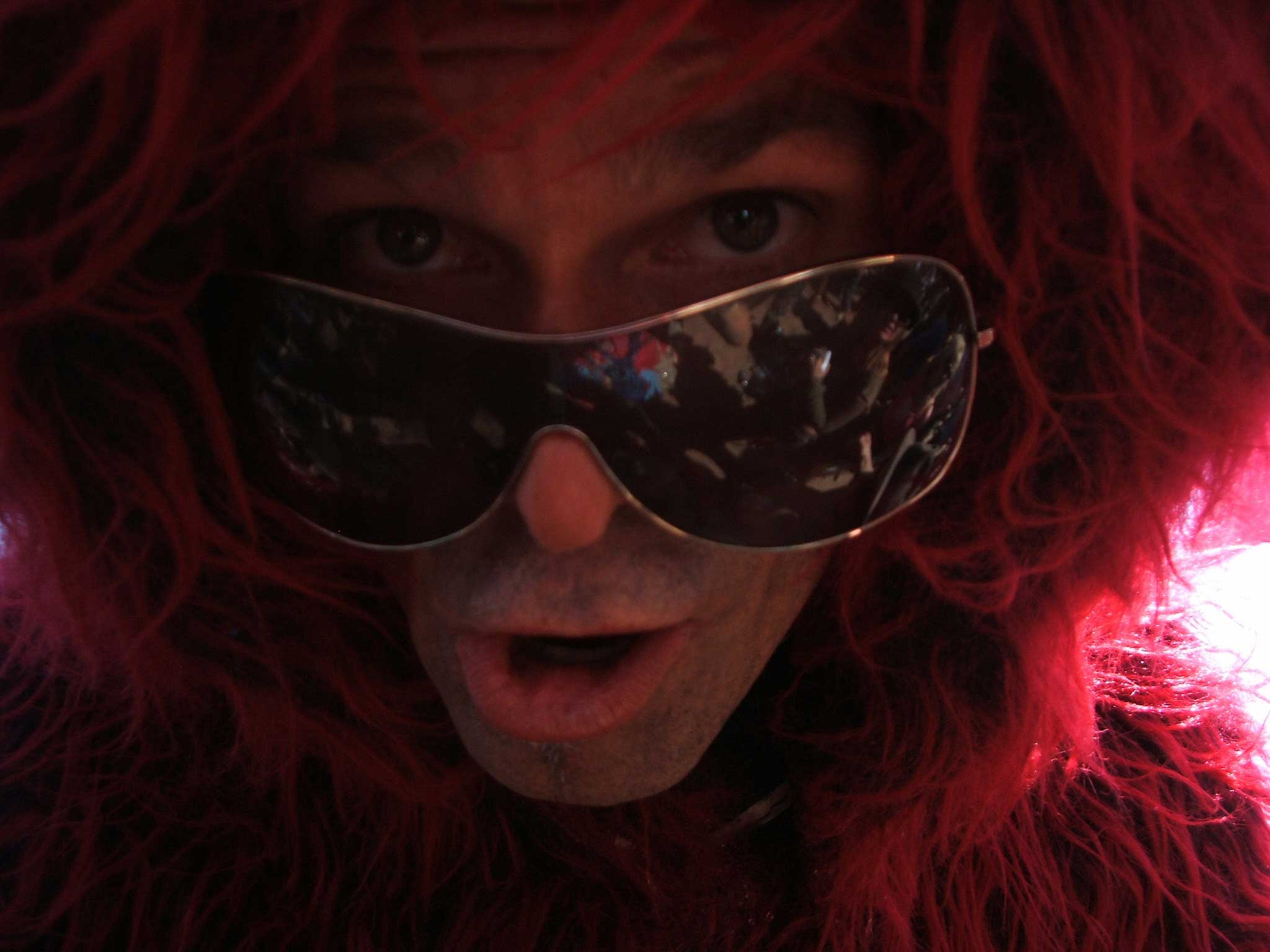 OTHER NAMES:
Martie bear has been called many names. Tall Bear, Big Bear, Muddie Bear and Markie Bear, Dancing Bear, Mr Teddy Bear, " b eARS ", Big Foot and Army Bear, have all been on the list of utterances from the uninitiated. Occasionally some nasty ones come out, which we won't write here. You can place yours nicely in the say wot u feel or the guestbook page
CHARACTERISTICS:
This bear is distinct from all other bears, with only a few facial hairs on his chin and growing down from his shades arm on the side of his face. His fur strangely grew in a camouflaged pattern in the late 90's. Not quite your desert storm or Vietnam styled cammo, but a more of a contemporary style that lets him blend in- well just about anywhere! He has long sturdy legs and big ears with white fluff growing from inside them. Nowadays he has transformed into a long red furry bear and had occasionally alongside, Em Bear until moving to Brisvegas and Da Free Bears formed with Mamma and Baby Bear in june 2008.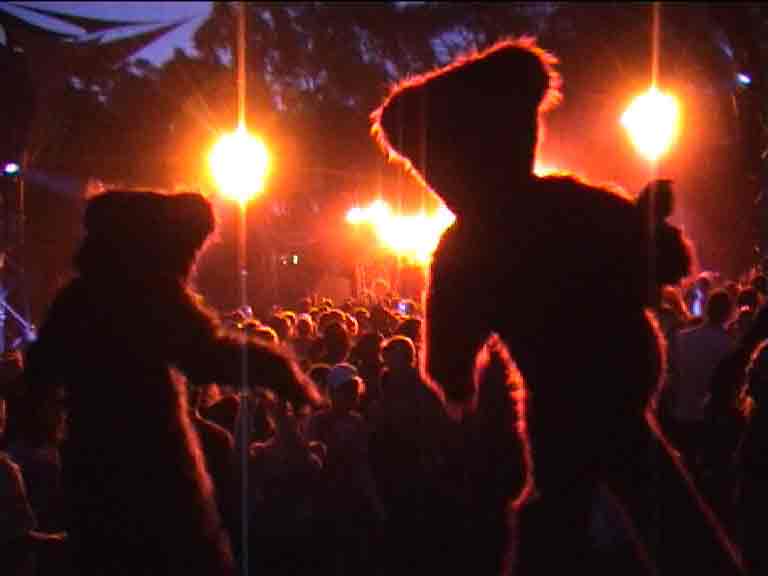 SIZE:
He is 3.15 metres in height and not tooo fat.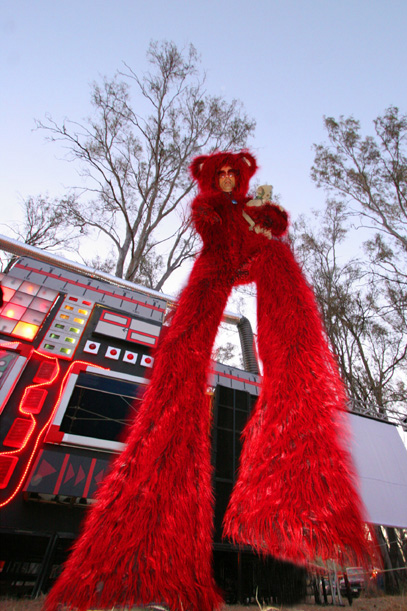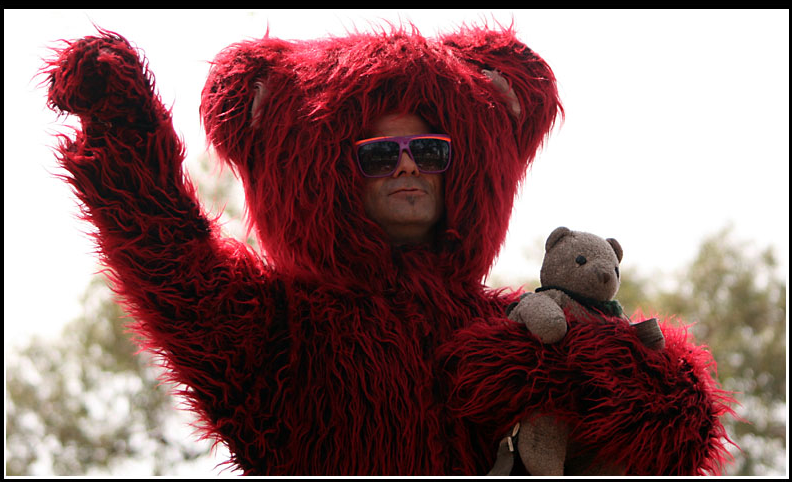 HABITAT:
M/B lives not far from the city in Brisvegas.
There is grass area all around and lots of birds, dogs and blossie.DISTRIBUTION:
Martie Bear tries to distribute himself as much as possible around the world, although he is based in Brisvegas. He also lived in Bearlin, Germany. His picture has been photographed thousands of times and he has appeared on TV too. His image has been distributed heaps of places on postcard, calendar and press and internet. More cards, dvd's and publications are now in production.POPULATION:
So far, there is only one in the world...COMMUNITY:
Mb is very active within whichever community he is involved. The Big Bear has been seen at so many events across the globe, including Solar Eclipse festivals, Reclaim the Streets, Christopher street day, Love Parade, Voov experience, Adelaide Fringe festival, Earthdance, Teddy bear's picnic and the big walk across the bridge on Sorry Day 2000. He has operated the Bearsville Cafe at many festival venues across Eastern Australia. The kids were usually arguing over who is going to sell the doughnut tray, although never again producing them for healthy reasons! He has participated in and/or instigated over a dozen warehouses, in as many years, from small, housing 5 people, to large, housing over 100. He is not committed to principles- his purpose is to foster only a small part of the solution to animal abuse and generate a brighter future for humans as well. SOCIAL SYSTEM:
M/B likes to take the bus sometimes and definitely loves bicycles as well as roller-skating. He has several vocalizations such as " b eARS ", " burbs " and " braps ". He is an excellent singer and mimic and lumbers around @ ten feet tall on the dance floor with floppity grace. DIET:
Bears loves porridge for brekky {not too hot or cold but just right}.

Bears loves buckwheat pancakes with mangoes.

Bears loves fried ice-cream.

Bears loves pistachio gelato.

Bears loves sushi.

Bears loves toasted sandwiches.

Bears loves tofu burgers.

Bears loves fresh juices

Bears loves energised and filtered water

HIBERNATION:
M/B loves to hibernate, although cannot make much time for it at present.PEOPLE AND MARTIE BEAR:
Most people like the Big Bear and try to give him a hug. He can't lean over and hug everbody, but is always happy to receive a teddy from someone young, or old, for Bearification. Audiences across Australia and Europe have not always seen a Bear as tall as this one, so sometimes there is a little tear from the scaredy bears, or a fallen Bear to make erect, or in extreme triggering situations there has been trips and punches and cans and objects thrown up at him!...Even tackled at the Newtown festival in 2002! Don't do that please. The audience is likely to tackle you! Stilt walker etiquette is common sense.

HOME